CONSTRUCTION EQUIPMENT SHIPPING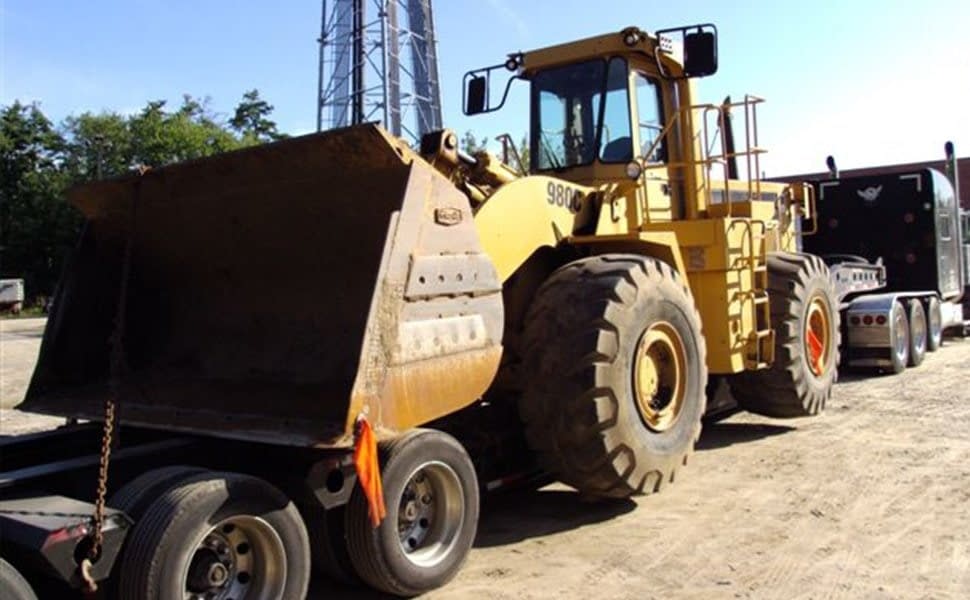 TRANSPORT CONSTRUCTION MACHINERY & EQUIPMENT OF ALL SIZES
All Machinery Transport holds expertise for over 20 years in transporting all types of construction machinery and equipment across all the States in USA, Canada, Mexico, and Shipping Overseas.
With strict regulations and restricted time in hand, it is crucial to utilize resources appropriately. Our team of professionals have years of transportation experience keeping clients free of worry with on-time deliveries without exceeding the budget. Shipping equipment used by us for efficient supply of services includes standard flatbeds for wheeled machinery and 20 axle HD trailers to take care of the largest and heaviest pieces such as cranes and booms. All of the equipment is thoroughly scrutinized for performance and certified for the appropriate weight load. We are fully bonded and insured to take the stress off your mind.
Do you want Custom Quotes for shipping construction equipment or machinery for your transportation project?
Give us a call – 470-880-8000 now for a FREE Shipping Estimate.
Ship your Construction Equipment Safely with All Machinery Transport
The leading organizations across the country rely on our services for moving goods faster and efficiently from one site to the other. We are equipped and skilled for fulfilling bids on time without exceeding your hauling budget.
All Machinery Transport is a heavy construction equipment transport specialist you can rely on. Expect a No-Error transport with us. As professional haulers, we understand that only properly rated transport trailers and trucks can transport your construction set-up to the desired destination.
We also know that a number of heavy duty pieces may fail to use roads used for a car or a truck. Transportation laws vary and may not support larger pieces of equipment in some cases. When you hire an experienced and certified team of heavy equipment movers, you are actually protecting your expensive equipment. Let our professional team of haulers arrange loading and unloading, assembly, and transportation logistics for you.
We have experience in successfully moving several thousands of pieces of equipment Worldwide. Our team has handled the following:
Excavators for material handling and digging trenches
Backhoe loaders for placing pipes in restricted space
Bulldozers for moving heavy amounts of dirt across large tracts of land
Skit-Ster Loaders in snow and mud
Motor Graders for creating flat surfaces and fine grading
Crawler Loaders for excavation of small-scale projects
Trenchers for digging large trenches and cutting through slabs of asphalt
Scrapers for digging and leveling large bands of land
We can ship complex terrain construction equipment. The team is also experienced in transporting off-terrain construction equipment using specialized divers.
Trailer Types Available From All Machinery Transport
Hauling heavy loads is not just our job. It is our passion and we specialize in it. We can haul all kinds of heavy loads including construction equipment, oil field rigging and Super Loads. We would like to be addresses as wide-load specialists!
Expect All Machinery Transport to offer you an extensive range of trailer choices, including the following:
Step Deck/Drop Deck Trailer
Maximum Weight – 48,000 lbs
Maximum Length – 53 ft
Maximum Width – 8.5 ft
Double Drop Deck Trailer
Maximum Weight – 45,000 lbs
Maximum Length – 29 ft
Maximum Width – 8.5 ft
Maximum Height – 11.5 ft
Removable Gooseneck Trailer (RGN)
Maximum Weight – 150,000+ lbs
Main Deck Length – 29 ft
Well Width – 8.5 ft
Legal Height Limit – 11.6 ft
Flatbed Trailer
Maximum Weight – 48,000 lbs
Maximum Length – 53 ft
Maximum Width – 8.5 ft
Maximum Height – 8.5 ft
We ship other types of equipment including:
Cranes
Bulldozers
Excavators
Wheel Loaders
Crawler Loaders
Backhoes
Drills
Forklifts
Rollers
Scrapers
Compactors
Motor Graders
Scissor & Boom Lifts
Forestry Equipment
Trailers
Grinders
Skid Steer Loaders
Heavy Equipment
Petrochemical Equipment
Chemical Equipment
Oil/Gas Process Plant Equipment
Dump Trucks
All Machinery Transport also specializes in transporting equipment of almost all brands you may own. Our team of drivers comprises of experienced and highly skilled heavy-machinery operators who know how to safely maneuver your loads aboard our trailers.
Let Us Take Care of Your Equipment Needs
We will prepare one to precisely fit into your construction equipment shipping needs. One call to our logistics specialists is enough to get you started. The team at All Machinery Transport will take details of your route, timeline, and restrictions (if any) and focus on quicker yet safer movement.
As soon as our experts plan your route based on the details provided by you, we take a vigilant inventory, along with you or your representative, of the whole lot to transport.
We will weigh heavy equipment properly and prepare a plan on the specific pieces of transport equipment rated for larger/overweight machinery. The next step is to secure the load and check it for safety and security.
The job of team at All Machinery Transport does not end after reaching the appointed destination. The professionals will check your inventory against the list. We can also help you with the process of safe unloading and reassembly if needed
Are you Looking for a "heavy equipment transport near me"? We Operate and Support machinery and heavy equipment hauling acorss USA, Canada, Mexico and the rest of the World!
Let us handle all of your construction equipment transport needs! Give us a Call or Get a Quick Quote Online