Excavator Transport and Hauling
Things to Know About Heavy Haul Trucking Companies for Excavator Transportation across the USA, Canada and Mexico?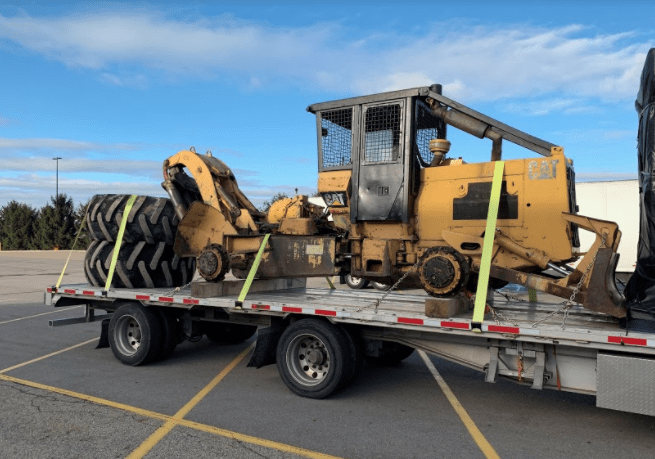 All Machinery Transport (AMT) is a heavy hauling company that specializes in trucking services for over-dimensional and overweight shipments like Excavators. Heavy Haul Trucking has its challenges, especially for drivers. Most of the heavy haul trucking involves transportation of something that is over-dimensional and overweight, so drivers have to use special routes to travel. We use special trucks and trailers that can carry the size of the payload required for the Machinery / Equipment Several things determine the cost of renting a heavy haul trucking company to move an Excavator that you need to know. Here are some things that factor in the shipping Estimate for an Excavator Transport if you are looking for Excavator Transport Costs, we wrote a blog post about it.
How much does it cost to Transport an Excavator?
The cost of moving an Excavator involves various factors such as Weight, Length, Width, Accessories. On average, the cost to transport an Excavator is $3-$5 per Mile
How do I Ship an Excavator?
The process to Ship an Excavator involves the use of certified Trailers, Permits, Licenses and proper route logistics planning. Hydraulic Excavators are usually transported on RGN Trailers Small-sized Mini Excavators can be hauled on Step Deck Trailer
Mileage:
Mileage determines what total fare you will have to pay. Each state has a different basic freight rate. So, if you use this service to transport between states, the rules of carriage from the destination also determine the fare.

Equipment:
Another factor that determines the tariff for heavy haul trucking is the equipment they use. For example, trucks require certain types of trailers depending on the height of the item. There are many types of trailers that can be chosen, namely, van, step deck, flatbed, double drop, or some special types that usually adjust to the type of cargo they are transporting. Such an addition will affect the basic fare of transport.

Size and dimensions of the load:
As the height of the goods determines the type of trailer you need, weight affects the amount of fuel they will need to move the load. The heavier the load they carry, the more fuel they will need. So, the load weight will determine the basic rate of shipping your goods.

Time of transportation:
Weather conditions and certain seasons or months of the year also determine freight rates. The rates for the early months of the year tend to be cheaper because they start slowly, and entering the fourth quarter which tends to be very busy most companies will increase their rates.

Fuel prices:
The price of fuel, which continues to change, is one of the factors why in calculating the freight rate the company will add fuel surcharges. Most of them will scramble to refuel when the price has not changed so as not to experience losses or reduce their profits. The price of fuel is quite a point that makes transportation companies anxious.

Transport Permits:
State-to-state transport regulations require certain permits so you will incur an additional fee. This fee will vary depending on the licensing you need. There are various kinds of permits that you will need to cross state borders and of course, getting them will cost a lot of money.
Some of the Excavators Transported by our Logistics Experts across USA, Canada and Mexico
About us and this blog
We offer professional and personalised services that makes a difference for our customers nationwide. Our services include monitoring your shipments from pick-up point to destination, twenty-four hours per day, seven days a week. With our large fleet of select, contract carriers and our own asset-based truck lines, we provide the latest and finest equipment available in the industry.
This article gives a quick overview of the different types of excavators…