OVER DIMENSIONAL SHIPPING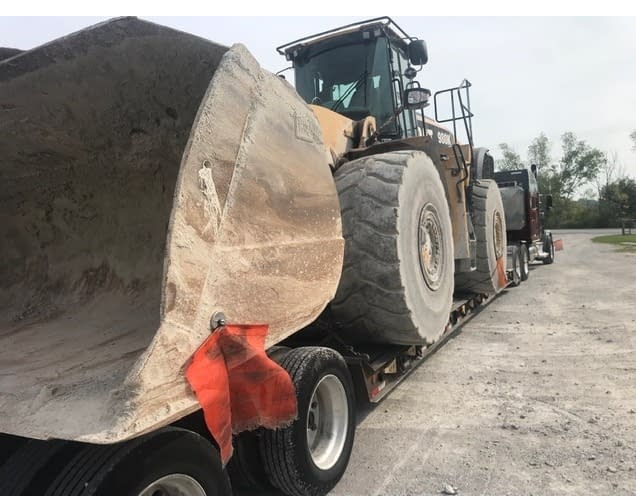 SPECIALIZED TRANSPORT FOR OVERDIMENSIONAL SHIPPING
Shifting an overdimensional load is not a normal task. The job demands a full-fledged squad of professionals. You can trust only experienced drivers who know the appropriate way to employ requisite equipment. The drivers at All Machinery Transport hold ample experience in distributing heavy loads on trailers. They are also aware of the best way to secure heavy loads for travel.
We are also armed with a powerful logistics team. From route planning to chase for car assignments, and traffic control plans, leave everything on our team. Successful overdimensional transport needs effective logistics. After mapping your best route, the team at All Machinery Transport will apply for state permits. Usually, the process takes several months. It also depends on the states where your load will travel.
Ground Transportation for Heavy Equipment Export
Most of the success of transporting oversized loads depends on the use of specialized equipment. All Machinery Transport have access to all types and sizes of specialized trailers, dollies and escorts. This allows us to accomplish the process of heavy hauling without any hassles.
We are armed with the following equipment to ship an overdimensional load:
Dollies
Trailers
Bucket trucks
Drivers
Rear escorts
Extended side-view mirrors
Front escorts
Two-way radios
You may require Special Overdimensional State Permits if the load exceeds the following:
8 1/2 feet in width
13 1/2 feet in height
80,000 pound gross vehicle weight
65 feet in total length
20,000 pound single axle weight
34,000 pound tandem axle weight
Overdimensional Loads and Federal Regulations
The Federal Highway Administration (FHA) does not issue permits for overdimensional loads. However, it is responsible for determining and implementing precise axle weight limits for oversized shipping. This agency also sets criteria for the following requirements for tractor trailers:
Maximum width
Height
Length requirements
In case, your shipment exceeds the maximums, it is important to petition states on travel route. This is needed for oversize permits.
Acquiring State Permits for Over-dimensional Loads
We are armed, equipped, and experienced to obtain the state permits required for shipping over-dimensional loads. Some of the standard submissions required for loads may include:
Reason for the move
Clear pictures of the equipment
Drawings of load
Proof shipment
Licenses
Insurance
Tolls
Our team of professionals will record and calculate the entire thing and supply you as a single, easy to understand shipping estimate. Consider us as your logistics pros. We will do all that it takes to ensure a safer, smoother, and faster overdimensional shipping for you.
The following permits are usually needed to ship an overdimensional load:
Weight restrictions
Route restrictions
Length restrictions
Height restrictions
Width restrictions
Overdimensional Load Permits – The Required Time length
Operating times
Pilot car rules
Signs, flags and lights
Overhang rules
Apart from helping you to avoid some of the inevitable overhead obstacles, our team will help you to successfully navigate your overdimensional load through the following and more:
Crossings
Highways
Bridges
Interstates
Over-dimensional Loads – Planning the Route
Issuance of over-dimensional load permits are usually offered a specific route by a certain number of jurisdictions. Some may even require the shipper to create the accurate travel path. Our scout team will reach you to assess the proposed route for any irregularities or alterations. As you travel, a pilot vehicle will keep your path clear your path and another will protect the rear. All in all, we make sure your route is protected!